Another foreign language not only opens up more perspectives and widens the view – it is today simply an indispensable key competence for the profession. Anyone who speaks a foreign language can communicate with people easily and without obstacles. Especially for the job, this offers more opportunities for advancement in the company and a career as desired.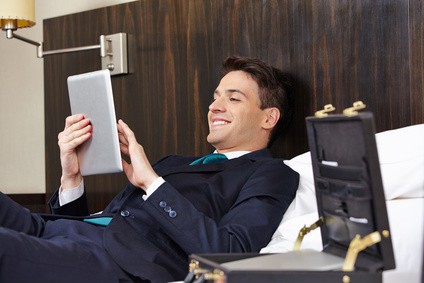 In addition to our Tamil beginner language courses and the Tamil language courses for children, there are also Tamil business language courses, which are specially equipped with situations from professional life and the corresponding vocabulary. With a business language course not only basic knowledge can be refreshed, but also explicit business vocabulary and idioms can be learned. This is especially necessary in intercultural situations to avoid misunderstandings. In important contexts such as contracts and agreements, every word counts so that everything runs smoothly.
Tamil Business Language Course – Learn Tamil Conveniently from Home or on the Move
With this Tamil Business language course you learn comfortably from home. You don't have to follow fixed dates, but can arrange the learning process individually and flexibly. Although language acquisition in the target country – South-Asia – itself offers great advantages, this is a practical alternative, especially if you are heavily involved in your job, family or private environment. You don't have to change your everyday life for the course.
---

Get access to your personal Tamil Business online course now or test the free online demo version*
---
With just a few minutes a day, immense progress can be achieved within a very short time. It doesn't matter whether you learn in the morning, in the evening or simply as the mood takes you. Also on the way to work you can already complete your day lesson on the way or on business trips. The waiting time is efficiently used and practically integrated. The software can be used from anywhere and is also innovative and varied.
Contents of the Tamil Business Online Course
The course includes an extensive complete training. Grammar rules are repeated and deepened as well as new structures are learned. Of course, specific business vocabulary is the main focus, but practical phrases and idioms are also taught in order to communicate fluently and confidently in Tamil.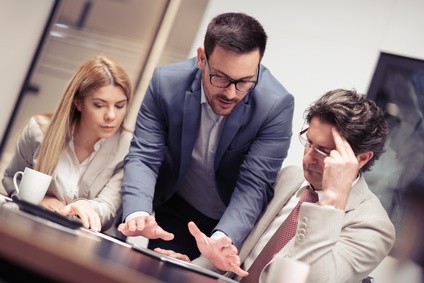 In intercultural contexts, all those involved have specific experiences, values, attitudes and actions that are shaped by the culture of origin. In another culture, however, typical behaviour patterns can be perceived quite differently than intended. This is why intercultural sensitivity is also important – while some are very direct and brash, others are reserved and polite. In order to interpret such signs correctly, which are often expressed by linguistic phrases, appropriate knowledge is required. This is how negotiations become a success.
The structure of the Tamil Business Language Course is based on the modern findings of learning theory. Complex learning tasks train both linguistic correctness and listening and reading comprehension. Speaking is not neglected either, so that you complete a holistic and comprehensive training. The learning is varied and different senses are trained through a variety of methods. The language course works with visual and auditory stimuli, making learning a joyful experience.
Business vocabulary and phrases
For a confident and self-confident appearance, verbal language is the most important criterion alongside body language. In the business context there are always typical misunderstandings. Fat cups – often words and phrases, which are common in Tamil, but which have developed a new meaning far away from the original language, cause confusion on the international stage. It is therefore important to have the right words ready for the right situation. Embarrassments are a thing of the past. The business language course prepares you for all imponderables and misunderstandings.
Modern learning techniques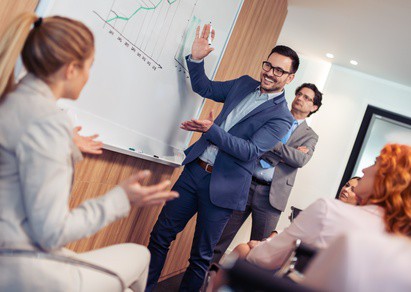 The course's innovative learning method makes learning child's play. The effective long-term memory method allows new words to be queried in a specific rhythm. A new word is queried every day until it is immediately known. Then the distance between the queries increases in 2, 4, 8 or 16 days. This ensures that the vocabulary is not only available at short notice, but is unforgettably stored in the long-term memory.
You decide yourself how you want to repeat the vocabulary. You can choose, for example, between text input, flash repetitions or multiple-choice methods as well as many other methods. You don't feel that this modern structure takes you back to your school days.
The long-term memory tasks are supplemented by various daily tasks. Here you will efficiently train grammar, vocabulary, texts and phrases. This combination makes the business language course particularly effective and efficient.
Networking with other learners
Your participation in the course also gives you the opportunity to join the 17-Minute-Language Insider Learning Community. On the online platform, you can share and compare your progress and daily points. This increases your motivation for the coming stages.
You can also exchange ideas with like-minded people and make new acquaintances or even friends. This makes the business language course a complete success for your career.
---

Get access to your personal Tamil Business online course now or test the free online demo version*
---
On the following pages, I would like to show you tips and tricks for learning a foreign language: